The countdown is on! Now that the Federal Motor Transport Authority has approved the new VDO DTCO 4.1 smart tachograph (2nd version), there is nothing standing in the way of punctual delivery in time for the market launch. But when exactly do which vehicles have to be equipped with it? We have the answer.
Better working conditions, a fair competition field and greater safety on the roads - these are the goals of the EU Mobility Package 1, whose regulations are already being successively implemented. This year - just in time for the 100th anniversary of the VDO tachograph - the next major milestone is coming up: the introduction of the new smart tachograph of the second version, the DTCO 4.1. The implementing regulation EU 2021/1228 regulates when which vehicles must be equipped with it. Very important and often misunderstood: Only commercial vehicles used in cross-border traffic must be retrofitted. So anyone who drives exclusively in Hamburg or Frankfurt or Magdeburg, for example, for transport companies in local traffic does not have to have the new tachographs retrofitted.
Deadlines for the new tachograph
New vehicles over 3.5 tons gross weight: they must be equipped with the intelligent tachograph (2nd version) from August 21, 2023.
Existing vehicles over 3.5 tons gross vehicle weight: if they previously had a 1st generation analog or digital tachograph on board, they must be upgraded to the new devices no later than December 31, 2024. If they already use a 1st version smart tachograph, the conversion deadline comes on August 18, 2025.
NEW! Vehicles over 2.5 tons gross weight: Smaller commercial vehicles in cross-border traffic will also be subject to the tachograph requirement in the future. They must be equipped with the new intelligent tachograph (2nd version) by July 1, 2026 at the latest.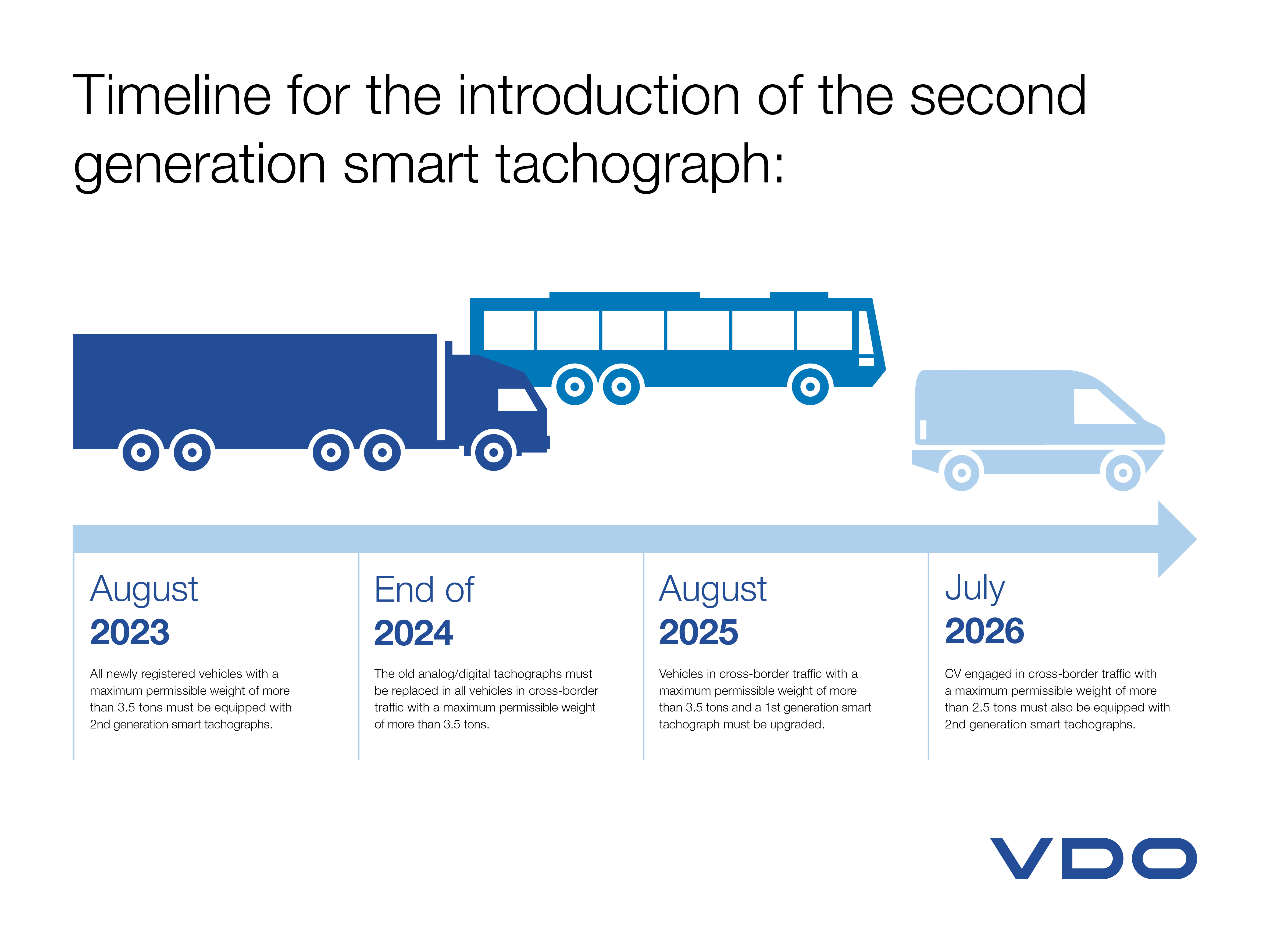 Keep these deadlines in mind for your fleet and arrange a retrofit appointment at your workshop well in advance. For example, by using the prescribed periodic inspections for this purpose. This way, you can avoid the rush before the deadline and benefit from the new and enhanced functions of the DTCO 4.1 today.
Learn more about the DTCO 4.1 here.